Types of Termites
Dampwood Termites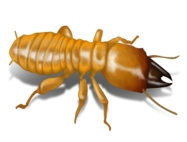 There are several species of dampwood termites in the United States. Dampwood termites are much larger then the subterranean termites that are common across the country. The swarmers (winged termites) can be 25 mm long, including their wings. The soldiers can be as large as 20 mm. They have a large head with mandibles (pincers) on the front. There are no dampwood termite workers. The immature termites do the work in the colony. The immature termites can be as much as 20 mm long.
---
Drywood Termites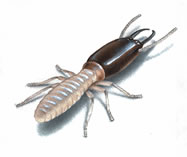 Alates, or swarmers, have two sets of wings. The front set of wings has a pattern of three or more heavy, well-pigmented veins in the outer part of that front wing. Also, swarmers shed their wings very quickly after swarming, so most all dead swarmer bodies do not have attached wings. This is a good characteristic to distinguish drywood termite swarms from subterranean termite swarms since subterranean swarmers will consist of dead swarmers with and without attached wings.Swarmers can be up to 12 mm long.
Drywood termite soldiers have large mandibles (mouthparts) with teeth and their pronotum is as wide, or wider, than the head. Also, most drywood termite soldiers and workers are larger than the soldiers and workers in subterranean termite colonies.
---
Formosan Termites
Formosan termites are social insects with three distinct forms (castes): the wingless or winged reproductives (alates), the protector soldiers and the workers. Since Formosan termite workers look very much like workers of other termite groups, the soldiers and winged alates are the castes that are useful to provide a correct identification. Since differentiation between Formosan termites and other termite groups is not easy, it is best to contact your pest management professional for help with providing an accurate identification.
---
Subterranean Termites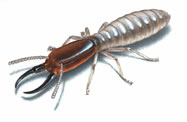 Three "castes" of a termite colony: workers are approximately 6 mm long, light-colored and wingless; soldiers have elongated heads with mandibles; reproductives are dark-colored and have two pair of equal-length wings.
Other factors that will help identify subterranean termites are:
Alates (swarmers): Dark-brown to black in color, about ¼ to ½ inch long with two pairs of wings that are very close to being equal in length.
Workers: No wings, about ¼ inch or less in length and cream colored.
Soldiers: No wings, large mandibles (jaws), termite colony defenders, are creamy-white in color, but their head is often brownish in color.
Appearance of damaged wood: Since subterranean termites build their nests underground, damaged wood usually has an accumulation of soil or mud within the tunnels of the wood they are eating. Since subterranean termites only eat the softwood, damaged wood appears to be layered, the result of the workers not eating the hardwood portion. In addition, subterranean termites feed "with the grain" rather than across the grain, as do drywood termites.
Location of the nest: As their group name suggests, the nest is usually found below ground. Nests may be found above ground, but only when sufficient moisture conditions are available to support the above-ground nest and the colony is old and well established.
The best method of subterranean termite control is to avoid water accumulation near the foundation of the home. Prevent subterranean termite access by diverting water away with properly functioning downspouts, gutters and splash blocks. Store firewood at least 20 feet away from the home, and keep mulch at least 15 inches from the foundation. Indoors, homeowners should reduce humidity through proper ventilation of crawl spaces, attics and basements to avoid attracting subterranean termite swarms.
---
Habits
Subterranean termites build distinctive tunnels, often referred to as "mud tubes," to reach food sources and protect themselves from open air. They use their scissor-like jaws to eat wood 24 hours a day, seven days a week. Like other termite species, subterranean termites also feed on products containing cellulose. Subterranean termites swarm in the spring when groups of reproductive termites go off to start new colonies.
Habitat
Subterranean termites live in underground colonies with as many as two million members. They are also found in moist secluded areas above ground.
Threats
Subterranean termites are by far the most destructive termite species. The hard, saw-toothed jaws of termites work like shears and are able to bite off extremely small fragments of wood, one piece at a time. Over time, they can collapse a building entirely, meaning possible financial ruin for a homeowner. If you suspect a termite infestation, contact us today for  subterranean termite treatment.